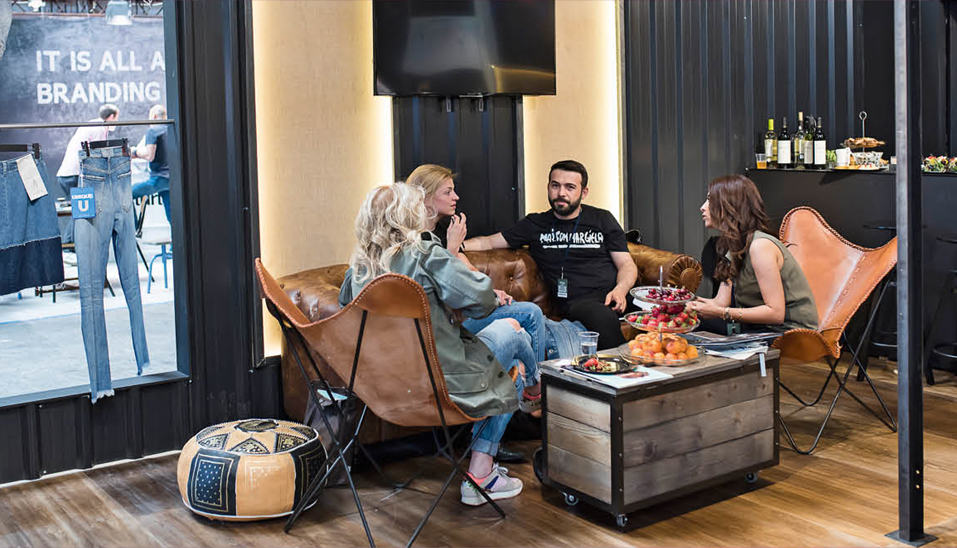 The Game Changer
While brands are evolving into retailers, producers are branching out into design. With these new developments in mind,
1 met up with Orhan Baykan. general manager of Baykanlar Textile, because if anyone has something to say on the topic it's him. As a clothing manufacturer he develops 5000 styles a year with a design team of 35. How and why? Because he can streamline the process – from the drawing board to the finished product -to a mere five weeks in total. Perhaps also because Baykanlar operates internatio­nally and knows the international trends. An insight into what happens when the supply chain is turned on its head…
Barcelona, 25 degrees. The who's who of the interna­tional denim industry are gathered here on the Plaça d'Espanya tor Denim Premiere Vision, to fill the order books of some and the shelves of others. in the midst of it all is the tradeshow booth of Baykanlar, which, com­pared to many of the other exhibitors, looks more like a showroom of a European fashion brand. Organised according to colour and styles, the clothing manufactur­ing expert demonstrates examples of a diverse number of denim trends you may have seen recently on the mood boards of some of the leading fashion torecasters. in my interview with Orhan Baykan I tried to get to the bottom of what I had already suspected and that was already confirmed by the general presence of the manufacturer. Namely that manufacturing is by no means the mere pro­duction side of things, but rather the place where fashion is made.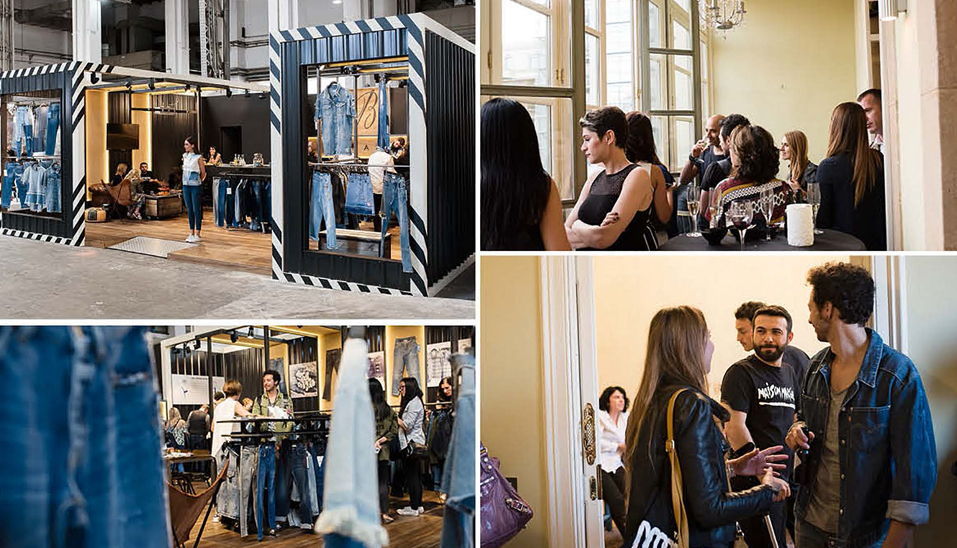 Orhan, you took part in our Denim Round Tab/e in lstan­bul, where we talked a /ot about Turkey as a manufac­turing country for denim products. Today what interests me is where you see Baykanlar's role on the fashion scene as a whole. What makes you different to other manufacturers? 
Orhan Baykan: In Turkey everything is vertical in the factories. You can source fabrics, accessories, trims: all together. And you can find these different areas easily. lt's a big advan­tage having innovators on the fabric side as well as on the manufacturing side. When our partners produce the fabric, we sit down together with our key customers and make the collection right away. After three days every­thing is ready. That's the advantage of the country. in doing so it's not the customer telling us what they want. We give them the latest trends, the design, the fits, the ideas and the concepts. This is also why we are here at this fair. As you can see we showcase different kinds of concepts and we don't just sell trousers. We sell design. We also tell the customers how to explain the products to their customers. We write stories tor all the jeans we are making.
Why do you think you know the market needs better than your customers?
Orhan Baykan: We don't just focus on one country but work with lots of customers in different countries. And all the trends in those countries are different. So our design teams research various markets and gain a good overall impression of fashion. That's why we are sometimes one step ahead.
So is this how you differ? By doing fashion?
Orhan Baykan: Not really. Everybody else is doing fashion as well. But we do it first. We sniff out the trends quickly. Our customers come to us and ask: What's the next trend? lt's a good sign. Some brands don't have the budget to travel around like we do. And they don't have as much time. They come to our booth once, see our idea of what might be in tomorrow, and next time they come back and say: "You were right So, tell me, what's coming next?" But it's not only about our design. lt's also about the quality of our partners, fabric suppliers, etc. Ali this culminates in a story you can tell the end consumer. And we create this story tor them. So they use our expertise to their advantage and rely on what we recommend as a prod­uct.
Is it cost-effective to work like that? it seems to be o big investment.
Orhan Baykan: This is the future. Oth­erwise you won't stand out and will end up getting left behind. Baykanlar's main custom­ers are fast-fashion brands, like the lnditex Group, which are at the front of the fash­ion business right now. Nobody can catch up with them. And we have enough service, speed and creativity to feed them with fast fashion. That's what makes our position so stable. But on the other hand, due to the size of our company we are limited in the efforts of development. We take very precise decisions about where to invest and what customers are a good fit tor us. We prefer having long-term relationships by seasonal customers. We want to collaborate instead of making fast money.
Several hours later I am invited to the opening of the new Baykanlar showroom on one of Barcelona's many broad aveni­das. Awaiting me there is a large period apartment with decorative stucco ceilings, panelled doors and opulent wooden tloors. Balconies and a small conservatory open up to reveal views onto the coastal city's typical courtyards and pretty gardens. in addition to conference rooms, a showroom and comfortable living room there are also guest rooms tor clients who have had a longer journey. The rooms are the quintessence of luxury and tradition. No doubt a conscious contrast to the collections hanging on the racks, which are ultra-modern, as bold as brass and technologically advanced. Orhan welcomes me at the door and introduces me to his two older brothers, with whom he tounded the company in 1998. Back then, he was just 18 years old. His brothers decided to develop a jeans manufacturing company out of the textile business so he got on board. Looking at all three brothers, it's easy to sus­pect that Orhan must have been the enfant terrible of the family because, in contrast to his siblings, who seem to fit eftortlessly into the showroom in their smart suits, Orhan is wearing a black Martin Margiela T-shirt, jogging pants and Premiata sneakers.